14 Oct
It is a good idea, and a solid way to keep your brain active and alive, to vary your activities.
Puzzles and games are amazing; physical exercise is essential; eating brain boosting foods is critical; getting in touch with your body is a life booster; and thinking deeply will enhance the quality of life in so many ways.
Today, let's try a somewhat different kind of word puzzle so you can stretch and expand your brain workout just a bit.
For this challenge you will need:  1.  paper,  2. something to write with, and 3.  a timer.
Your task is to write down  as many words, all with 3 or more letters, using the letters in the wheel. Here is the catch: each word must include the letter in the center of the wheel. When you are ready, set the timer to 2 minutes and begin.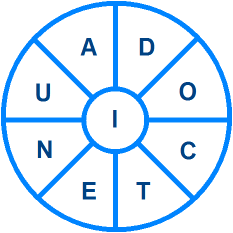 How many did you get?   Ready to try again?  Set the timer for 90 seconds this time.  Ready? Go!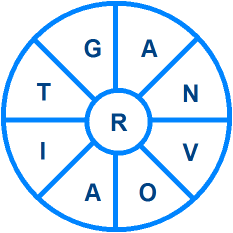 Was it harder to have to use a vowel in every word or a consonant?
Do you like Wednesday's Words? If so I will keep it going!