14 Mar
Next week is  The Dana Foundation's Brain Awareness Week — a global initiative focused on highlighting the benefits and advancements of brain research.  Yes, we have come along way (due in large part to the White House's BRAIN Initiative) and researchers have made huge strides toward unlocking the mysteries of the brain.
Before diving into the wonders and insights as a result of another year of research, I want to talk about something we may never be able to get a handle on but has changed the lives of so many — more than likely at least one person you know –brain injury.
Brain injuries are tricky little devils. Most of the time they hide so well that no one is able to see them no less note that anything is wrong. Sometimes they show up after the most unlikely events  like surgery or treatment for a disease, or as part of the progression of a disease not necessarily localized in the brain.  They are not just the result of a traumatic physical incident or an accident or a fall or a stroke. Brain injuries and all the stuff that goes along with them sometimes simply pop up without warning.
Medical professionals give them names that sound so harmless, like post-concussive syndrome or chemo brain or brain fog, that they don't even feel worthy of a deeper look. But they are.
Here is the big question: How do you help someone with something you can't see? Even the well intended will miss the signs if they are not looking for them and, to be fair, how would they know to look?
The biggest indicator is change in behavior, attitude, level of involvement in life, personality, and routine. If you see a change, take a deeper look.
If you believe you are living with someone who has had some kind of brain change, here are some tips:
Listen, watch closely, and adapt to changes as they happen.
Drop assumptions and preconceived notions about how that person "should be".
Slow down and think through your questions, especially when you get unexpected answers.  Perspective, among so many other things, changes so it may take a while to find the right question.
Find those things that are difficult and create ways to practice those skills in a safe place.   Games – board games, word games, car games, online games, apps – are ideal.
Think about how frustrating the changes are for you and now imagine having those same frustrations with no way to control your emotions or think your way out of them….
Find the experts as you need and support groups when you need.
Know that, if this is a brain injury, that person will change, not just during recovery but also might be different in the end. Make the most of that new person and celebrate what you can.
Understanding starts with digging in to all the great information that is out there.   The Brain Injury Association of America is one of the best content collectors on the subject and the resources, including personal stories of challenges and recovery.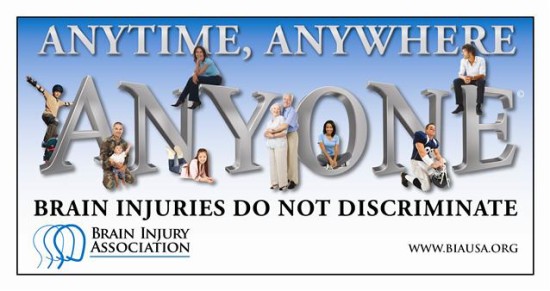 Looking for an event to celebrate Brain Awareness Week? CLICK HERE for a searchable calendar so you can find one near you. If you are in or near Carlsbad, California on Tuesday, March 16, come visit Judi Bonilla, Gerontologist, and me at the Dove Library at 1PM for an introduction to Brain Fit Now!