9 Nov
I just love having my mind blown wide open and that is exactly what happened last week when I spoke with a woman named Hannah Silver.
Let's back up a bit.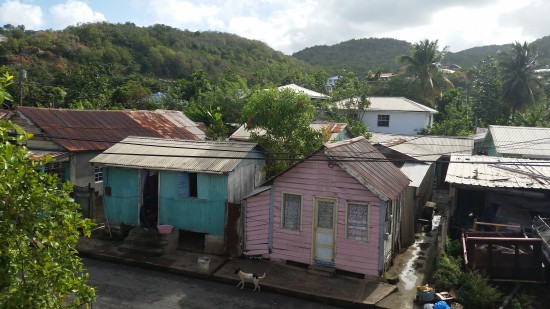 Last February I went to St. Lucia with Global Volunteers to serve in the community of Anse la Raye. While there I had lots of conversations with the amazing country leader Chemida Popo-Cox. During one of those talks she mentioned a woman named Hannah who served while the library at the Anse la Raye Primary School was being built and stocked. Hannah, Chemida said, went home inspired to collect books to send back to the St. Lucia Project. Hundreds of books to ship, she said, but Hannah did not know how to get them there. Ha! How I love a problem that I can help solve!
When I got home I sent Hannah an email to see how I could help. She told me she had boxes full of books in storage. With that little bit of information I started to form a plan. My husband and I contacted all the people involved in Global Volunteers, secured shipping containers, found a freight company, and started to coordinate with Hannah to get the books to us so we could make all of this work.
At this point, Hannah was just a woman at the other end of an email. To be honest, in my head I'd created an image of a retired school teacher or librarian with a passion for helping others, out collecting and squirreling away books to send to children who really needed them. We were finalizing the details about getting the books to me (making sure they arrived when I was in town) and Hannah said that her mom would ship them because she had to leave for college that next week. Leave for college? Not a retired anything but a young person? I had to learn more!
When I got home from my most recent trip and all the boxes arrived I reached out to Hannah to get the whole story. We spoke on Skype last week and here is what I discovered.
Hannah is 18, a freshman at University of California Berkeley, and an absolute ray of joy and light! Wow, seriously?
Right before Hannah's senior year in high school, she traveled with her mom to Anse la Raye to help on the St. Lucia Project. She told me that when they arrived they found a room at the Primary School with shelves and some boxes with books to unpack. As Hannah unpacked the books she noticed that many were not appropriate for young children, were not appropriate for school, or were just not culturally relevant.
"Growing up in a nice neighborhood we take books for granted. Kids here (in the US) don't appreciate the fact that they have good books in the library", Hannah said.  The fact that the children in Anse la Raye had so few choices bothered Hannah. She returned home determined to help change that.
The process started at home. Hannah's family had just moved and she found three huge boxes filled with books they no longer needed.
Then she took her efforts to her high school. She got the administration to allow her to make school-wide announcements and put out boxes for students to donate books. Those boxes filled up in a month.
She went to people's homes and picked up boxes of books when asked. It surprised her just how many people had so many books that they simply no longer needed.
Hannah used the relationships from clubs she joined and organizations she got involved with at school to collect even more books.
"So many people have so much to give but they just don't know what to do," Hannah told me.
This 18-year-old determined to change a condition certainly gave a whole lot of people a way to make a real difference.
Hannah did not have any specialized training before volunteering in St. Lucia – just a heart to help others and the determination to make a difference.  Hannah believes that everyone can and should help.
"All it really takes is engagement and effort on your part," Hannah explained about service with Global Volunteers. "Anyone can do the littlest thing and make a difference."
Hannah and I shared stories about how it was difficult to reconcile the difference between the resources available in Anse la Raye and only 20 minutes away at some of the most exclusive resorts in the world – both on the same beautiful island but worlds apart.
"The experience impacted what I got involved with when I got home. It inspired me and made me a more well-rounded candidate for college programs," Hannah said.
Hannah is now in the Media Studies program at University of California, Berkeley. Inspired by her service, her experience as a volunteer, and how all that made her feel Hannah hopes to work as a Social Entrepreneur and help make the world a better place for people like the children at Anse la Raye Primary School.
Wow….
Full disclosure: No one paid me or gave me any discounts or treated me any differently than any other volunteer on my trip to Anse la Raye. I wrote a series of pieces about my trip  because I love Global Volunteers and the St. Lucia Project. Here is one of my favorite pieces.