5 May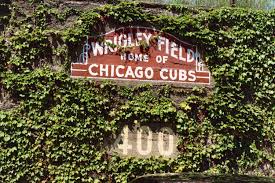 This time of year symbolizes hope, new life, and the promise of great things on the horizon. For me that means major league baseball season is in full swing!
Every morning I check the MLB app on my phone to see the recaps/rehash of the previous day's games. The story I just read led with this:
"Already off to their best start in more than 100 years, the Cubs…."
And hope soars. This year that hope for this 51-year Cub fan, feels more real and less crazy than usual.
For the first time in my life we are in May and here is what I am not feeling at this moment: cognitive dissonance.
Cognitive dissonance: the state of psychological discomfort that comes from recognizing a gaping divide between what is real and what you believe. Or something like that…
So… that is not the official definition but this version – my version – certainly puts how I've felt about my status as a Cub fan the past few years – OK the past 30ish years – in perspective.
Sure, in my "glass is always over-flowing" world, I have fairly regular brushes with reality mismatches but nothing major and rarely anything I would classify as dissonance. This is historic dissonance and its roots began growing about 50 years ago.
Here is pretty much where it all began.
I grew up in the Calumet Region in Northwest Indiana, firmly nestled between the south side of Chicago and Gary, Indiana. While I was sprouting and testing my wings, the area represented the best of American manufacturing – steel mills, auto plants, and household product producers – all fueled by the big Unions and powered by the big "political machines" that both supported and benefitted from them.
Pretty sure I was five when my big brother and I walked into an O'Connor and Goldberg Shoe Store to wait in line to meet one of the most influential characters in the area. When it was my turn, I watched in awe as a smiling, gentle man took out his 8 x 10 glossy photo and a pen and wrote "To Ruth, My #1 fan! Ernie Banks".  At that moment, a Cub fan was born.
Fifty-one years and so much life between, but I can't think of a moment that shaped me more than this one. Yes, I married the person who completes me and I gave birth to an amazing and pretty awe-inspiring young man and I watched the birth and unfolding lives of nieces and nephews and others who inspire and challenge me to be better. But those events did not fundamentally change my world view and how I define hope and persistence as much as the moment I first thought of myself as a devout Cub fan.
Here's the thing. There is no coming back from that first declaration – being a Cub fan leads you down a path and there is no visible escape route. And the moment a self-declared Cubs fan steps foot in Wrigley Field, it is all over – the legendary ivy so firmly growing up the wall in front of the bleachers seems to get a hold on your heart somehow.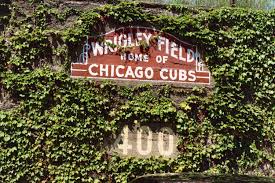 Every year I've sung the "there's always next year" chorus and, even in years when the date the Cubs are "mathematically eliminated from the playoffs" comes entirely too early, I have hope up until the very last moment.
For good reason this year feels different. "Already off to the best start in more than a 100 years…." How can I not be justified in my hope?
Last year at this time I sat down to write a piece about my first real battle with acknowledged cognitive dissonance and I decided I was done – 50 years was enough. There is something wrong –systemically – and short of raising the dead, nothing would fill that seemingly never ending well of hope for me.
Fifty years was enough and it was time to move on. As I started to write that piece, my declaration that enough was enough and publically state that I could not take another year of heart ache, the words to the amazingly talented singer-song writer Katie Day's highly acclaimed Cubs anthem By the Lakeside floated into my head (her masterful lyrics are in italics below) and I started thinking. Here's how it went.
"It's been long a time comin'  Feelin' like a hundred years of rain all summer. But something's in the air now, I can feel it, so baby you can dry your tears away…away."
Hang on…. Is there something in the air?
"Maybe I've lost my mind just thinkin' we could wear the crown. But I think it's worth the fight so don't you give up on me now."
She makes sense. Really? Give up now after all this time?
Enter the haunting chorus:
" 'Cause when the gods decide, it's about damn time, we're gonna pop champagne… by the lakeside. When the evening comes and the stars align… we're gonna pop champagne… gonna pop champagne… by the lakeside"
Can I really see that? Imagine the champagne and fireworks? Yes, I can.
"Talkin' bout the hard times, tears cried, that don't even mean a thing. It's on and up now. And I know how the heartbreak frustrates but all of that was yesterday. It's gone away."
Yes, 50 years of hope starting to build from the bottom of my soul – I can feel it.
"Maybe I've lost my mind just thinkin' we could tear it down. But I think it's worth the fight so don't you give up on me now."
Ahhhh…sinking in to that old familiar feeling and then this…again, sending me over the edge:
" 'Cause when the gods decide, it's about damn time… gonna pop champagne… by the lakeside. When the evening comes and the stars align… we're gonna pop champagne… gonna pop champagne… by the lakeside."
Cue the images of me with a transistor radio plastered to my head while Jack Brickhouse sings Hey, Hey Holy Mackerel No Doubt About It so loud you could even hear him on the Southside in Comisky Park. And later, much later, Harry Cary every seventh inning stretch singing Take Me Out to the Ball Game. And the field fills with some of the greatest players in the history of baseball – my childhood heroes – and I am back in the game, heart filled with hope, expectation, and wonder.
FAST FORWARD ONE YEAR….
Again, I am in it for the long haul and for the record? THIS, 2016, really is that NEXT YEAR I have been dreaming about.
You can buy By the Lakeside and Katie Day's latest album Kids here on iTunes.
Disclosure: Parts of this piece were previously printed on CraniumCrunches blog. And the amazingly talented Katie Day is my niece but that does not color the facts nor sway my opinion that she, her music, and By the Lakeside are all spectacular – too much anyway.
Song credits: By the Lakeside
Written by: Katie Day
Produced by: Katie Day and Scott McDowell @fadersolo
Mixed by: Scott McDowell @fadersolo
Mastered by: Jonathan Kirchner
Drums and Bass: Peter Labberton
All other instruments and vocals: Katie Day
All rights owned by Katie Day Music