29 Oct
Variety and diversity are the keys to keeping pathways in your brain active, open, and nourished and will help you build some brain resilience to bolster and protect.
One of the most valuable everyday brain health gifts you can yourself is to mix it up and do something that breaks your routine. Thinking and cognitive life can get comfortable and it is easy just to coast in that lane. Even when you may push yourself within that lane (like doing increasingly more difficult Cranium Crunches puzzles or moving to doing a crossword puzzle in pen) you are only working and challenging one type of thinking process. Brains, their processes, and their capabilities – just like our everyday lives – will not move forward, grow, and thrive unless we make a conscious effort to move beyond that comfort zone.
In the spirit of variety and diversity, let's try a different kind of word puzzle today.
For this word challenge you will need:  1.  paper,  2. something to write with, and 3.  a timer.
Set the timer to 2 minutes.   Write down  as many words using 3 or more letters using the letters in the wheel before the time runs out.   Here is the catch: each word must include the letter in the center of the wheel.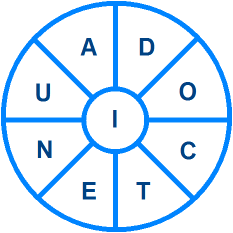 How many did you get?   Ready to try again?  Set the timer for 90 seconds this time.  Ready? Go!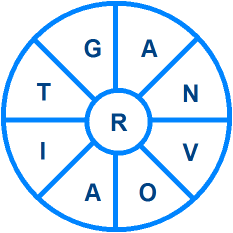 Was it harder to have to use a vowel in every word or a consonant?